Black Friday Member Offer
19 November 2021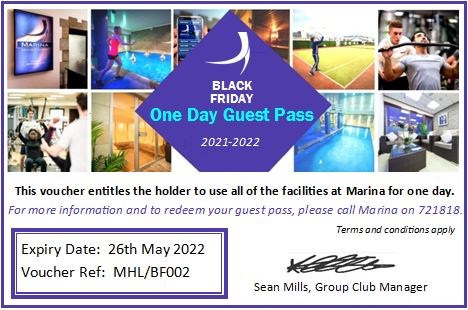 Black Friday is almost upon us and we have a great deal for members this year.  You can save 50% of the cost of one day guest passes.

We all know how rewarding it can be to work out with a friend so for Black Friday this year we are giving you the opportunity to purchase guest passes for just £12.50 each - a saving of 50%! 

Reap the benefits
People who train together drive each other on and celebrate each other's achievements leading to increased motivation. 

Mix it up
Always craved AquaFit, or secretly want to try spinning at the weekend? Grab a friend and turn the class into a catch-up opportunity to shake up your routine and try something new. 

Work harder
Numerous studies have found exercise effort increases for both cardiovascular and resistance training when working out with a partner.

Make it fun
Laughter is the best form of medicine, and those 'training moments' aren't really funny if you don't have someone to laugh with. It's so important to make sure that staying active is enjoyable. 

Passes will be valid until May 26th 2022.  Terms and Conditions apply.